This originally appeared on IONCinema on June 12, 2012.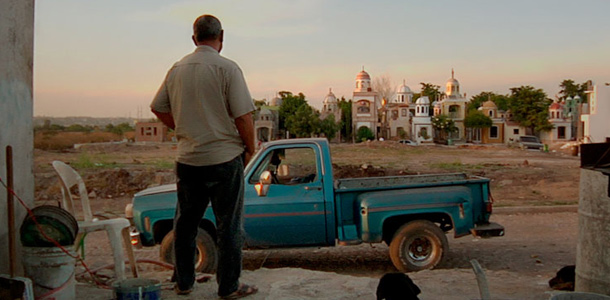 Shooting Spree: Almada Documents Open Air and Closed Doors of War Zone
A documentary film that is a nearly wordless account, save for the Mexican TV and radio broadcasts of the ongoing drug wars happening in the north of Mexico, particularly in the notorious cities of Juarez and Culiacan.

El Velador

(The Night Watchman) is one day in the life of those left to tend the memorials and mausoleums of Mexican's fallen drug lords, whose corpses lie like kings in marble tombs. Natalia Almada's chilling look at what happens when criminal drug lords are deified even in death, while their victims are completely forgotten might be wordless, but speaks volumes about a problem that is unlikely to go away.
Martin, a solitary worker along with his faithful dogs, takes care of the mausoleums every night, as the "velador" of the title. Workers keep the ground moist by hosing it down periodically, and an attractive young widow mops the floor of her husband (a corrupt police officer)'s mausoleum while her children play hopscotch across a row of tombs. They work and live as if time has stood still, paying respect to these men who spread death and destruction across the country.
Since President Felipe Calderon took office, there has been war declared on the drug cartels, increasing the violence and death toll, of both criminals and innocents. Approximately, 35,000 people have been killed since 2006. Many people wait in long bank lines in hopes of retrieving money that was stolen from them by the drug cartels. The illegal drug trade doesn't just affect Mexico, but is a worldwide problem.
Almada is a native of Sinaloa, both an agricultural state and a place that is also a major area for drug trafficking and where the local "narcos" have a romantic quality to them, as outlaws or like Mafia movie heroes. But upon hearing from close neighbors of the deaths and disappearances of their loved ones, the glamour of drug life quickly disappeared, revealing a monstrous reality and this doc allows the images to do the speaking, juxtaposing the grand memorials with radio broadcasts tracking the latest news about death being spread by their people.
The gorgeous, wide shots in the desert environment say so much about people whose lives are still dedicated to taking care of these people who were responsible for so much violence and unimaginable mayhem.

El Velador

is unnerving to watch, a film filled with so much restraint and quietness, yet not forgetting to remind the audience of how violence pervades and, even if a drug lord is dead, their deaths are still celebrated while paupers and illegal immigrants lie in unmarked graves.
Reviewed at the 2011 ND/NF.